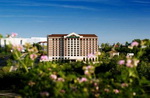 The 7th Reunion of the 6/27th Artillery Vietnam was held at the Grand Plaza Hotel in Branson, MO on September 14 and 15, 2016. The photo above shows those attending. This year's reunion set an all-time record attendance. Seventy three Cannon Kings and Queens were originally registered to attend. Unfortunately, four registrants were forced to cancel due to a motorcycle accident on the way to Branson, in the case of Buddy and Betty Willis, and family demands on Alice Atkins and Pedro Agosto. They were all missed by those attending as well as those who were long-time attendees who did not attend this year. Even with those late cancellations this year's reunion set a record attendance of 69. The Reunion's unofficial start began in the Grand Plaza Hotel's Pub on the Plaza on Tuesday, 9/13 where early arrivers met at 7:30 p.m. for drinks and conversation until well past 11:00.
Registration began on Wednesday at 12:00 noon in the Grand Plaza Sunset Room. A Reception was held in the Sunset Room from noon until 10:00. Drinks of choice were easily available at the Pub on the Plaza with drink tickets presented as a part of the registration fee. A buffet of appetizers was served in the late afternoon. As at previous reunions this was a chance for those attending to greet old friends and to meet and get to know those attending a reunion for the first time.
Among those attending for the first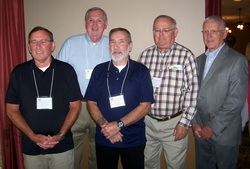 time were members of F Battery 16th Artillery a towed 155mm howitzer battery attached to the 6/27th Artillery at Quan Loi in 1969. Regular reunion attendees extended a warm welcome to William Wynne, George Bentley, Jim & Nickie Schwartzkopf, James Neault and Larry and Kathy Thomas. All were happy that F Battery was "re-attached" to the 6/27th. Other first-time attendees were Jack & Jane Curry, David & Linda Darnell, James & Ruth Kuertz, Larry Mayes, Clifford Nehring, Craig & Rosanna Norwood, and Domingo & Estela, Rios Jr.

As with each previous reunion the dynamics for this reunion were different. The friendliness and good spirit among all those attending was quite evident. View Reception photos here.

Those attending had their Thursday daytime to enjoy Branson, attend the many available shows or get together for more comradeship and friendship renewal. The Grand Plaza Hotel rates included a free breakfast buffet which most attendees took advantage of. Some veterans rode the "DuckBoats" or attended the "Dixie Stampede" while others visited Branson's many other attractions.
The Banquet Dinner was held in the Grand Plaza Hotel Sunset Room on Thursday, September 14, 2016. The Grand Plaza staff provided a great meal with excellent service. By tradition the program was informal with a welcome from John Wavra with a benediction by former Canon King and Navy Chaplin, Tom Atkins.
After dinner the room was called to order and Fallen Comrades and Friends not present were remembered with a moment of silence after their names were read aloud by selected table hosts and a toast offered by Don Clay to their memory. The traditional "Fallen Comrade" place was set at each table to remind each of us how fortunate we all were to have made it back from Vietnam and to be attending this reunion. It was again pointed out that all of us have been fortunate to live forty plus years longer than our comrades who gave their lives in Vietnam. View Dinner photos here.
Nothing can take the place of attending a reunion in person, but here is a "Snapshot Video" of part of the dinner. View Dinner Video.
Special toasts were offered to the memory of many Cannon Kings who have passed in the last two years. Among them were John W. Bradshaw, Mark L. Kleinhans , Joe Lang, Ken Wright, Anthony "Tony" Volpone and Cannon Queen Eunice Holmes , wife of Tim Holmes, a fellow Cannon King.
A special memory of Berry Watson was offered by Scott Krueger, noting that Berry had attended four of the last reunions. Berry was affectionately remembered as "the bartender" from the first reunion.
Roger Mallory reminded us all of why Norm Wolfinger became a friend to all who attended previous reunions. Norm and Janie had attended all six previous reunions and added so much to the fun and comradeship they brought to each. Les Higa offered a toast to Berry's & Norm's memories, adding how greatly each will be missed.
Janie, we hope you will consider attending the 2018 Reunion!
The usual "around-the-room" self-introductions took place with the fun that goes with it. Again, as with previous reunions, the floor was then opened to anyone who wanted to relate a memory, tell a funny story or whatever, and several Cannon Kings used this time to good advantage. It was fun to listen to new and old stories.
When the last story was told the dinner was over and group photos were taken. Click here to view an enlarged interactive group photo. The 2016 Reunion, it was agreed by most attending, had been a great success! Many thanks to all who attended the 2016 Reunion and to everyone who helped to make it the success that it was. A special thanks to each of the table hosts and to Sharon & Robert Smith who helped sort out and string the name tags and Ralph Porter who helped man the registration table. And lastly, an extra special thanks to Reed McDonald and Les Higa, who, without their efforts over the last twelve years, none of the reunions would have been possible.
Hope to see you all in 2018! John Wavra
Sorry if you were unable to attend this year's Reunion. There is no replacing the actual experience of being there and meeting fellow comrades and friends, but hopefully we can offer you the next best experience through a short video. Please click here to view the 2016 Reunion "Snapshot" Dinner Video.