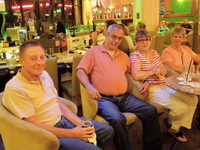 The 5th Reunion of the 6/27th Artillery Vietnam was once again held at the Flamingo Hotel and Casino in Las Vegas, Nevada on September 19 and 120, 2012. The photo above shows those attending. This year's reunion brought many last minute cancellations due to health-related issues for five Cannon Kings and one for a family death. Don Clay and Pat Jessup, Berry Watson, Jan and Shelby Askman, Jim and JC Fillerup and Pedro Agosto were all planning to attend but were forced to cancel. They were all missed by those attending as well as those who were long-time attendees who did not attend this year. The Reunion's unofficial start began in the Flamingo Garden Bar on Tuesday, 9/18 where early arrivers met at 7:30 p.m. for drinks and conversation until well past 11:00.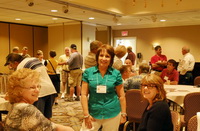 Registration began on Wednesday at 12:00 noon in the Flamingo Carson Room, instead of the scheduled Red Rock Room, due to a broken water main that flooded the Red Rock Rooms where we met in 2010. Here in the Carson Room, a Reception with a cash bar was held from 3:00 p.m. to 10:00 p.m. This was a great opportunity for those attending to greet old friends and to meet and get to know those attending a reunion for the first time. As with each previous reunion the dynamics for this reunion were different. The friendliness and good spirit among all those attending was quite evident. One first-time attendee wrote later they felt like they had been among family and old friends! View Reception photos here.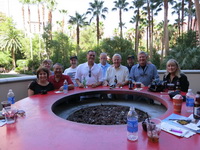 Those attending had their Thursday daytime to enjoy Las Vegas, gamble or get together for more comradeship and friendship renewal. Las Vegas' famous breakfast buffets were enjoyed by many. Some veterans did the Hoover Dam tour while others visited other attractions. A number chose to spend some of their afternoon in the Flamingo outside patio bar area enjoying each other's company.
The Banquet Dinner was held in the Flamingo Mesquite Room on Thursday, September 120, 2010. The Flamingo staff once again provided a great meal with excellent service. By tradition the program was informal with a welcome from John Wavra with a benediction by former Canon King and Navy Chaplin, Tom Atkins. This year those in attendance took a walk down memory lane when a video of the first four reunions was shown. Those who have attended previous reunions watched themselves grow old over the last ten years. Like to see the Past Reunions video? Click Here (Playing time 14:55)
After dinner the room was called to order and Fallen Comrades and Friends not present were remembered with a moment of silence after their names were read aloud and a toast offered by Les Higa to their memory. The traditional "Fallen Comrade" place was set at each table to remind each of us how fortunate we all were to have made it back from Vietnam and to be attending this reunion. It was again pointed out that all of us have been fortunate to live forty plus years longer than our comrades who gave their lives in Vietnam. View Dinner photos here.
Special toasts were offered to the memory of Larry Jameson, a story contributor to the website. John Wavra told the group about his special connection to Larry and how they both had hoped Larry would attend a reunion.
Once again, as with previous reunions, the floor was then opened to anyone who wanted to relate a memory, tell a funny story or whatever, and several Cannon Kings used this time to good advantage. It was fun to listen to new and old stories. When the last story was told the dinner was over and group photos were taken. The 2012 Reunion, it was agreed by most attending had been one of the best of the five! Many thanks to all who attended and to everyone who helped to make it the success that it was. Hope to see you all in 2014! John Wavra
Sorry if you were unable to attend this year's Reunion. There is no replacing the actual experience of being there and meeting fellow comrades and friends, but hopefully we can offer you the next best experience through a short video. Please click here to view the 2012 Reunion Video. (Play time is 10:44)