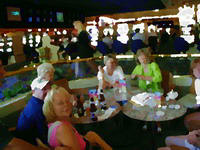 The fourth reunion of the 6/27th Artillery Vietnam was held at the Flamingo Hotel and Casino in Las Vegas, Nevada on September 15 and 16, 2010. The photo above shows those attending. Glen and Lori Russell had registered for the Reunion, but last minute urgent business needs required them to miss it. The Reunion's unofficial start began in the Flamingo Garden Bar on Tuesday, 9/14 where early arrivers met at 7:30 p.m. for drinks and conversation until well past 11:00.
Registration began on Wednesday at 12:00 noon in the Flamingo Red Rock Room where a Reception with open bar was held from 3:00 p.m. to 10:00 p.m. This was a great opportunity for those attending to meet old friends and to meet and get to know those attending a reunion for the first time. Many said the "buzz" from this reception rivaled the first Reunion held in 2004 at the Excalibur in Vegas. View Reception photos here.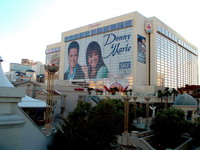 A Banquet Dinner was held in the Flamingo Laughlin Room on Thursday, September 16, 2010. The Flamingo staff provided a great meal with excellent service. By tradition the program was informal with a welcome from Les Higa, Reed McDonald and John Wavra who later conducted a short after-dinner presentation. Fallen comrades and friends not present were remembered with a moment of silence after their names were read aloud and a toast offered to their memory. The traditional "Fallen Comrade" place was set at each table to remind each of us how fortunate we all were to have made it back from Vietnam and to be attending this reunion. It was pointed out that all of us have been fortunate to live forty plus years longer than our comrades who gave their lives in Vietnam. View Dinner and more group photos here.
Special toasts were offered to the memory of SSGT Archie Jones by Reed McDonald. John Wavra offered a tribute to the memory of John Hollister, a fellow Cannon King, Service Battery 6/27th Arty, Mar68 to Mar69. John Hollister's wife, Eva, recently wrote to the website that her husband had planned to attend this year's Reunion, but died unexpectedly in June, 2010.
A tribute to the memory of Nona Graham, who passed in October, 2009 was also offered by John Wavra. Nona was a friend, contributor to the website and Mother of fellow Cannon King, Gary Graham. John urged the group to visit Nona's stories on the website if they had not done so already to read her excellent stories from the viewpoint of a Mother of a soldier in Vietnam.
The floor was then opened to anyone who wanted to relate a memory, tell a funny story or whatever, and several Cannon Kings used this time to good advantage. It was fun to listen to new and old stories. When the last story was told the dinner was over and group photos were taken. The 2010 Reunion turned out to be, in the opinion of many who have attended all four reunions, one of the best! Many thanks to all who attended and to everyone who helped to make it the success that it was. Hope to see you all in 2012!

2010 Las Vegas Reunion Accounting & Supporting Documents
* Note: Many thanks to Gary & Martha Graham, Les Higa and Roger Mallory for their photos used in these photo pages.