2008 Reunion Report
Click Individuals in Above Photo to Enlarge and for Information
**Dennis & Laurie Smerud had to leave the dinner before the group photo was taken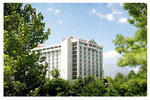 The third reunion of the 6/27th Artillery Vietnam Veterans was held at the Hotel Radisson Branson, Missouri on

September 18 & 19, 2008. The "class" photo above shows all those in attendance**. The Reunion started on Thursday with a welcome "hospitality" suite gathering in the Patriot Room at the Hotel Radisson. Refreshments were available throughout the afternoon and evening. It was an informal time to meet and greet old friends and to make new ones. Cannon Kings were able to come and go at will throughout the afternoon and evening while allowing attendance at one of Branson's many shows.

Friday evening the group met in one of the Hotel Radisson banquet rooms for a sit-down four-course dinner. Once again, the program was informal with a welcome from Les Higa, Reed McDonald and John Wavra who later conducted a short after-dinner presentation. Fallen comrades and friends not present were remembered with a moment of silence after their names were read aloud and a toast offered to their memory. The traditional "Fallen Comrade" place was set at each table to remind each of us how fortunate we all were to have made it back from Vietnam and to be attending this reunion.

Norm Wolfinger was offered the groups hardy congratulations for having been chosen the 2007 Disabled American Veteran. His honor should make every Cannon King stand a little taller. Round-the-room self-introductions were made. The floor was opened for anyone to comment, remember a friend or incident, tell a humorous story or just state how pleased they were to have made the journey to attend the Reunion. The group laughed together for the next two hours at remembrances of funny stories told by vets present. A strong feeling of family and comradeship prevailed. Some said this was the best of the three reunions. If you missed it, here's hoping you can make the next one in 2010. Click here for additional group photos.

* Note: Many thanks to Gary Graham, Les Higa, Roger Mallory, Norm Wolfinger, Scott Krueger, George Owens and Joe Deane for their photos used in these photo pages.
2008 Branson Reunion Accounting
---
(All content and photos on this site are the property of their named owners and may not be copied or used for any other purposes without permission. Please contact webmaster at address listed below for permission)
---
This website was produced and is maintained by John A. Wavra

Copyright © 2002 by ABattery6/27thArty. All rights reserved.
Revised: 10/13/14 16:13:24 -0500. abattery6-27tharty@quanloi.org