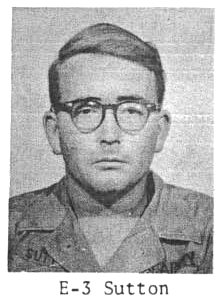 Willie Sutton Jr.

(AYDEN, NC) Mr. Willie Buddy Sutton, Jr., 57, died Wednesday, Jan. 5, 2005, in Pitt County Memorial Hospital. The funeral service will be conducted Saturday at 1:30 p.m. in the Wilkerson Funeral Chapel by the Rev. Glenn Mills and the Rev. Lee Mills. Burial will follow in Pinewood Memorial Park.

A native and lifelong resident of the Gardnersville community, Mr. Sutton attended the Pitt County schools. He was a Vietnam veteran, having served in the United States Army. For more than 25 years, he worked for Pierce Farms, retiring as a supervisor in September 2004 due to failing health. He was a member of Timothy Christian Church.

Mr. Sutton was preceded in death by his parents, Martha R. and Willie Sutton; and a sister, Peggy Sutton Everette.

Surviving are his sisters, Willie Faye Ross of Beaufort, Brenda Cox and husband, J.M., and Carolyn Bowen and husband, Ernest, all of Ayden, Martha Lewis and husband, Donald, of Stokes and Joanne Gurkins of Winterville; four nieces; and five nephews.

The family will receive friends tonight [January 7] from 7 to 9 at Wilkerson Funeral Home.

Memorial contributions may be made to the American Cancer Society, 930-B Wellness Drive, Greenville, NC 27834.

(Reprinted from The Daily Reflector - Serving Greenville, Pitt County, and eastern North Carolina)
Our sincere sympathy goes to Willie's family. Thanks to Jan Maclaga, another North Carolinian, for bringing Willie's obituary notice to the attention of the site. If you have a memory of Willie you would like posted to this page please email it to the webmaster at the address below.