The Wall
The year was 1985; the Vietnam War had been over for more than ten years and many changes had occurred in my family. My oldest son Gary had returned from the Army; gone back to college; earned a Masters Degree; married and joined the work force.
Now it was time to take that long planned trip to Washington, D.C. Our little group was made up of Gary, serving as our tour guide, his wife Martha and son, Mike and myself.
On our first full day in the Capital City, we made a trip to the Vietnam Veterans Memorial Wall. The Memorial is impressive, as it is made of shiny black marble that reflects whatever is in front of it. Furthermore, the "Wall" is much longer than I expected and is covered with the thousands of names of those who died in combat.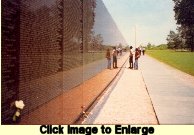 At first the weather was just cloudy, and then it got worse. Thunder crashed, lightning flashed and it RAINED!!! Then it rained harder!! We got soaked as we ran seeking cover. The "Wall" seemed an endless black obstruction to keep us from escaping. We finally stopped a taxicab and returned to our hotel to dry out.
Later we went to dinner at a nearby restaurant and the meal was a disaster. The music was too loud, service was poor, and the food was bad. We returned to our rooms in low spirits. Then I found that through a camera malfunction; all the pictures I had taken were ruined!!! Thus, a bad day ended.
The next day was better and we decided to go back to the wall so I could take more pictures. This time was different. The "Wall" now looked more of a dark gray and the sun touching light spots gave the impression of tiny diamonds. People were searching for names of friends and family and small items such as books and flowers and stuffed animals were placed at the base. I saw a man with his hand on a name and tears in his eyes.
A wheelchair-bound Vietnam Veteran, who was a candidate for mayor of a nearby city, was on hand to shoot pictures for his campaign. He and Gary exchanged stories of their time out of the country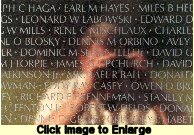 The "Wall" now made a different impression. Those whose names appeared there deserved to be honored, respected and remembered and I wanted all of it for them. I thought of our recent visit to Arlington National Cemetery and President Kennedy's words carved in marble, "Ask not what your country can do for you, ask what you can do for your country."
I knew they had given all they had to give and I felt it was a privilege to visit this place.
Nona E. Graham
Then
and
Now

Lindsay, Oklahoma (Photos Courtesy NGraham)



(All content and photos on this site are the property of their named owners and may not be copied or used for any other purposes without permission. Please contact webmaster for permission)