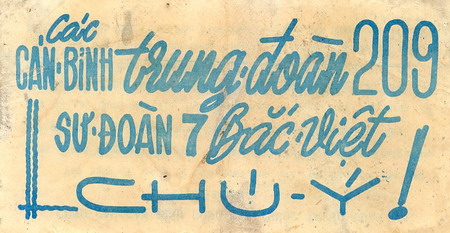 Side A
Translation: Soldiers of the 209th Regiment, 7th Division, North Vietnam - Attention !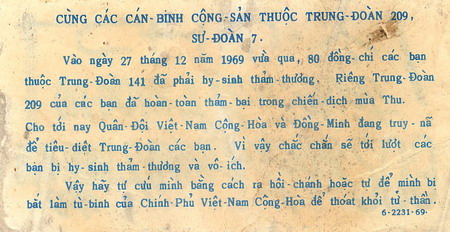 Side B
Translation:

TO THE COMMUNIST SOLDIERS OF REGIMENT 209, DIVISION 7

On the 27th of December, 80 of your comrades in Regiment 141 had to sacrifice in a horrible death. Your 209th Regiment had suffered a complete defeat during the Fall campaign.
Until now the ARVN and Allied troops have continued to pursue in order to destroy your regiment. Therefore, it would be certain that it would be your turn to be sacrificed pitifully and needlessly.

You should save yourself by rallying to the government side or allow yourself to be captured as a POW of the RVN in order to escape death.

(All content and photos on this site are the property of their named owners and may not be copied or used for any other purposes without permission. Please contact webmaster for permission)