Looking For Special Made Patches, Insignias, Vietnam Baseball Cap etc.

?
Fellow CannonKing Domingo Rios, Jr. Rcommends: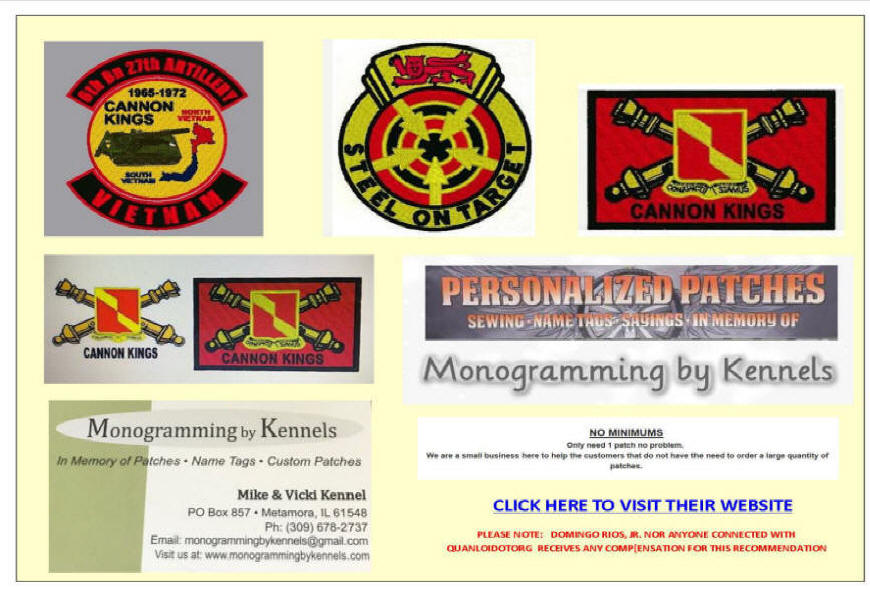 Domingo Rios, Jr., fellow CannonKing, Alpha Battery 6/27th Artillery,

Sep 69 to Aug 7

,

has had several patches made by Mike & Vicki Kennel and has been very satisfied with the results of their work. Domingo served two tours in Vietnam - His first with the 2/94th Artillery on the DMZ and his second with the 6/27th Artillery in Quan Loi as a gun sergeant. He will receive no compensation of any kind for this recommendation and simply wanted you to be aware of their excellent services.
HERE ARE OTHER WEBSITES FOR YOUR CONSIDERTION
Other websites to order caps, shirts etc. are as follows - This partial list of websites are listed
for your convenience and do not come with any particular recommendation:
Amazon.Com
Prior Service. Co
m
Walmart.Com
Medals of America.Com
CafePress.Com