Would You Like to Learn Who is Already
Registered For the 2018 Reunion?
Now what are you waiting for? Don't you want to join these fine Cannon Kings and their spouses in Branson? Get busy and reserve a room at the Branson Grand Plaza Hotel - You can cancel at no cost up to 24 hours before your scheduled arrival date. Once you have reserved your room complete and mail the registration with your registration check. You won't be sorry!
Join Us For the 2018 Reunion
We will meet in Branson, Mo on the evening of Tuesday, August 28, 2018 for an unofficial get together in the hotel bar. The official Registration and Welcome Reception, including a cash bar and hors d'oeuvres later that afternoon, will start at 12:00 Noon on Wednesday, August 29 in one of the hotel meeting rooms. We will hold a dinner/banquet the evening of Thursday, August 30, 2018.

If the above link does not take you to a new Reunion Information webpage please
Click Here to Download a Registration Packet as a PDF.

If you still have trouble in loading either of the above links please send an email
Don't hesitate - Make your reservations now! We hope to set a reunon attendance record for the 2018 Reunion. To do that we need you to attend! Get busy now - Do it now! We look forward to seeing you in Branson in August 2018!
---
There's New Content on the Website
Cannon King Restores Vietnam Era Jeep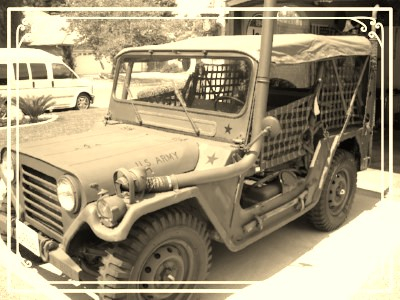 Remember this vehicle from your Army Service? Dennis Weehunt, former Service Battery Cannon King, sure does! He just renovated this one. Why? Wait until you see the finished work and learn why he did it..
Click Here to See
---
From its beginning in 2002 QuanLoiDotOrg has served not only those who were in the 6/27th Artillery, but also anyone who served at
Quan Loi, Vietnam
. Quan Loi was a unique place. Located in the middle of a French rubber plantation with the airstrip used as a golf course for French plantation managers, it also included an
Olympic-size swimming pool
and several lighted tennis courts as well
as a club house for the plantation managers to fly-in with their families and unwind at those facilities.

We have always welcomed photos, stories or memories from anyone who served at Quan Loi. We recently received three short memories from Jack Curry who served with Graves Registration, 1st Infantry Division, at Quan Loi from January to March 1968. Jack has become an "honorary" Cannon King when he and his wife, Jane, attended the 2016 Branson Reunion of the 6/27th Artillery Vietnam. Jack gives us three unique memories of Quan Loi and we thank him for them as well as the duty he performed in Quan Loi.
Click Here to read Jack's memories.
---
Five Myths About VA Health Care
The VA has been in the news lately with the recent firing and the ill-considered appointment of a new Director. Unless you have been asleep for the last several weeks you know of the effort to expand the Choice Program or the suggestions to completely privatize veteran's care. Here is a good article recently published by the Washington Post for your information and consideration.
Click Here to Read
---
Have You Seen Any of These Around Lately?
A 175 mm Gun recently photographed by Dennis Weehunt at Yuma Proving Grounds in Arizona. To see other photos taken by Dennis on his recent visit to YPG -
Click Here
.
If you know of any other 175mm Guns or 8 inch SP Howitzers around the country snap a photo and
send it
to us.
The Movie 'The Post' is a War Movie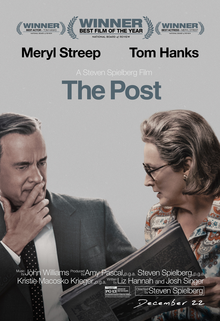 Steven Spielberg's 'The Post' is available on DVD and from NetFlix
Steven Spielberg's movie, 'The Post', is in Spielberg's own words, "a war movie". If you have not had the opportunity to see it yet, (it's newly out on DVD and available from NetFlix), you will find it begins with a combat scene from the Vietnam War.

The movie goes on to tell the story in 1971 of the publishing of the Pentagon Papers, "officially titled Report of the Office of the Secretary of Defense Vietnam Task Force, is a United States Department of Defense history of the United States' political and military involvement in Vietnam from 1945 to 1967".

Commissioned by then Secretary of Defense, Robert McNamara, it confirmed for some that the Government knew that we were losing the War as early as 1967. No matter your opinion of the publishing and what the Papers contain themselves, the movie presents an interesting story in the Spielberg style. It could lead you to investigate the papers and their publication further.