IT'S A SMALL WORLD
By Dennis Weehunt
During my tour of duty in Vietnam I got to go on a three day in country R&R to Vung Tau. As I was processed out of the R&R center, exchanging our Military script to South Vietnam Dong "Piaster", we sat through a class on the Vietnamese culture and they let us know we were only to go to places in town that had a small South Vietnamese flag in the window; the flag represented a safe establishment for Americans. If it didn't have a flag it was "off limits". We had some time to kill before we headed into town. I decided to get something to eat at the R&R center snack bar. I started talking with a young Vietnamese girl who worked there. I asked her about a large white building that I spotted on a mountain as we were driving into Vung Tau. She told me that it was a Buddhist Temple and that it was where a Buddhist Priest lived. She told me that if I wanted to go to her Temple, she had the next day off and that she would take me to visit it. "Sure", I said, "Why not!"
Click on Photos to Enlarge
The next day I met her and we jumped into a local taxi, a Lambrette, a 3-wheeled motorcycle with a cab that the driver sat in and an open flatbed over rear wheels where we sat.
We ended up at a small Buddhist Temple on the outskirts of, and high above,
Vung Tau. It was a cool place. I didn't realize she was taking me to an area that was "off limits" for me to go until we got there. I was impressed with the statues and the small Temple that we visited. The priest talked with her. I had no idea what was said. I think the day was a special day of offering for Buddhists.
<![if !vml]>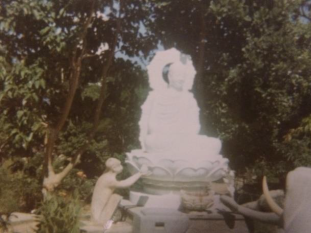 <![endif]> <![if !vml]>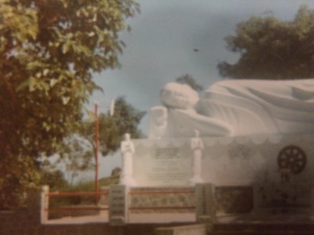 <![endif]>
In 2002 I and a good Vietnam Vet buddy went back to Vietnam, with "Vets with A Mission", a humanitarian group. During my 30-day visit, we traveled back to areas where we served. One of the places I wanted to find was the Buddhist Temple in Vung Tau. I had no idea where to start looking for this Temple. We just happened to stop at a fish market and I showed my 1971 pictures of the Temple to a group of children that gathered around us. A young boy started pointing up the hill and wanted me to follow him. The hill was covered with big trees and underbrush. As I followed him the path led to an opening where I saw the statues, Buddha asleep, Elephant and monkeys and not far from them was the Temple. My guide was not far behind me. About the time my guide walked up to me the priest came out of the Temple. My guide started talking with the priest and told him my story of visiting this Temple in 1971. My guide said the priest was very happy that I came back. The priest told my guide that he was the priest that was there in 1971. The priest asked us if we would enter the Temple so he could light incense for us. It was very moving.
<![if !vml]>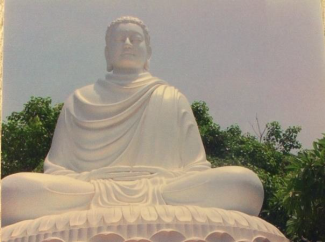 <![endif]> <![if !vml]>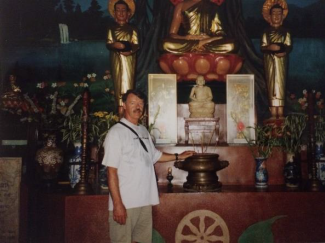 <![endif]>
In March of 2018 my wife and I were on vacation visiting a good friend in Honolulu. Les Higa and I had served in the same unit in Vietnam. On our way home to Oregon we were at the Honolulu Airport sitting at our gate when three Buddhist Monks sat down across from us. I picked up on their language. They were Vietnamese. I decided to try and talk with them. One of them had gone somewhere so it was just the two older men sitting across from me. I discovered that neither one of them understood what I was saying. I was wearing my Vietnam Veteran hat which
had a map of Vietnam on the side. I took it off and pointed at the southern area and said "Vung Tau". One of them said yes, Vung Tau, and the other one pointed at the Northern area and said Hanoi. I sat down and started looking on the web for the Buddhist temple in Vung Tau. There it was, the Temple that I had visited in 1971, and again in 2002. I showed the pictures to the monk from the Vung Tau. He wanted to have our picture taken together. We exchanged cell phones and took pictures.

We sat down and a few minutes later the third monk showed up with drinks for the three of them. I showed the pictures to the third monk and was surprised when he spoke to me in English. I told him my story about visiting the Temple in Vung Tau in 1971 and again in 2002. He then translated my story to the other two monks. Come to find out the priest at the Vung Tau Temple was a very close friend of the priest who was there in 1971 and 2002. He told me that his friend had passed away only a few months ago at the age of 88 years. We ended up taking even more pictures and the younger priest was from a Temple in Southern California. "IT'S A SMALL World"