Stephen Koert Simpson was born October 12, 1946, at Deaconess Hospital in Evansville, Indiana. He was raised in Tell City, Indiana, a town of about 8,000 people along the Ohio River just across from Kentucky.

He attended St. Paul's Catholic grade school and graduated from Tell City High School in 1964. He was president of his sophomore class. He attend the University of Evansville for two years and Kentucky Wesleyan in Owensboro, Kentucky for two years. While in college, he was a member of Sigma Nu fraternity and played bass guitar in a very popular local band called the Esquires.

He enlisted in the Army in 1968, trained at Fort Knox and Fort Polk prior to going to Vietnam. One of the reasons he enlisted was because his good friend Dave Huffman, a roommate at the University of Evansville, died in Vietnam. Dave's name is on the Wall in Washington, D.C.

Steve was in Vietnam from November 1968 until November 1969. His platoon leader, Sgt. Clifford Tapley, said that Steve was very fortunate. He could have been killed numerous times, but survived with only a few scratches. He once got hit by shrapnel and could have won a purple heart, but he thought not ......... since he said he had seen some fellow serviceman who had some severe injuries and his did not compare. Steve told his Mom and Dad that he was working on a typewriter and for them not to worry. The truth was that he saw some very difficult service, including combat, being a door gunner on a Huey helicopter, and other work.

After returning from Vietnam, he completed his military service and went to work in Pottstown, Pennsylvania with an Army buddy. After a year or so, he returned to the Tell City area, got married, worked as an accountant, owned a restaurant, worked at Barmet Industries and Alcoa, had two children, Caroline and Zachary, and got divorced. During most of that time he lived in Rockport, Indiana, which is about 20 miles down the river from Tell City.

He married a second time to Yvonne Rice, a girl he had dated prior to going to Vietnam. He was still married when he died, by suicide, in February of 1995. He probably had PTSD (Post Traumatic Stress Disorder), which may have contributed to his first divorce and then to his suicide. He told me once, as we were walking down the street, that he was always on the lookout for Charlie (Viet Cong), even though he had not been in Vietnam in 25 years. He could not get it out of his mind. He said it was the brainwashing he received during his training at Fort Polk, Louisiana just prior to going to Vietnam.

Steve had three younger brothers.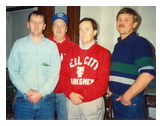 Kenny Simpson (b. November 1948), Bill Simpson (born July 1953, and Richard Simpson (b. September 1955). All three live in Tell City. Steve's parents were Leo K. and Goldie (nee Anderson) Simpson. They married in November of 1945 when Lee returned from WW2. Goldie died in September of 2008 at age 95 and Lee died in December of 2012 at age 95.
Steve's daughter Caroline lives in Owensboro, KY with her husband Deion Mucker and their children, Dylan and Eli Mucker. His son Zachary, lives in Evansville.

My brother Richard put the photos together and sent them to you.

Kenny Simpson