"I think that Alpha Battery left Phouc Vinh after a month or so, to support (maybe) the 1st Cavalry down south [settled just north of Bien Hoa]. I also went down later to help out. "
"These two photos were taken by a friend, John Anderson, of A Battery. I think it was while I was loaned out to Alpha. I didn't have a camera at that time, so he sent me these. The last time I heard from John he was a wild game biologist in Washington. I know he wouldn't care if you put them on the site."
"The location was on the support mission with A Battery down south of Saigon in early 66. I can't recall where. I do remember calculating data for high angle fire to go up and between mountains. Just before we were to fire, the firing officer stopped everything. I had calculated data and was going to fire the 175s at high angle. I was used to the 8" and didn't know that in order to fire the 175s at high angle you had to get permission from NASA or some other organization. It shot too high, seem to be more than 20 miles. I know the 8" range was 10 miles and never gave it a thought about the 175."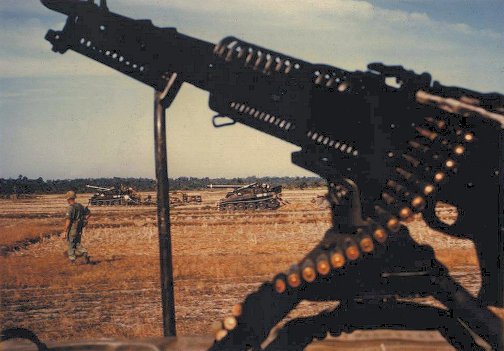 "One was taken after we set up in a rice paddy and was waiting on firing orders." (Photo Courtesy John Anderson, ABtry)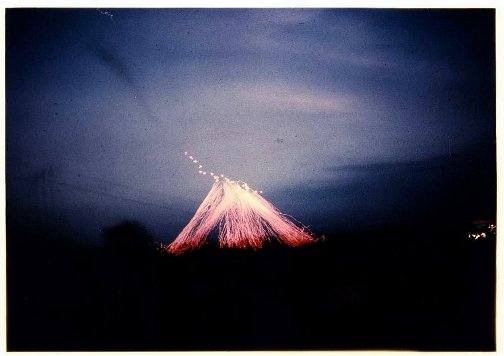 "The other is a timed photo of a Huey( I think ) laying down a few thousand rounds. I can't remember, but every so many rounds was a tracer and that is what you see here." (Photos Courtesy John Anderson, ABtry)
(All content and photos on this site are the property of their named owners and may not be copied or used for any other purposes without permission. Please contact webmaster for permission)